April 1, 2020 11:42 am
Institute LORIS AZZARO is involving in partnership with SEEMPA company (Aix-en-provence, France) to offer as a first step, 100,000 bottles of water to health centers.
In order to support medical staff and patients affected by virus Covid-19, foundation's " LORIS AZZARO Institute" announces with its partner SEEMPA (Aix-en-provence, France), producer of "Eaux 808 by Azzaro", a first free delivery of 100,000 bottles which will be delivered from March 31st in a selection of health centers.

Toulouse, 03/20/2020.
Loris Azzaro institute (eponymous foundation from the famous fashion designer for humanitarian, charitable and environmental purposes) launched a support operation "pure water for hospitals" aimed at offering pallets of pure water bottles to health centers in most affected areas by virus Covid-19: l'Oise, Mulhouse and Parisian region (La Pitié-Salpêtrière, Necker, Georges-Pompidou European Hospital, etc.)
The first health centers contacted, are very sensitive from this support to delivery pallets of pure water bottles.
This first delivery wave is done in partnership with SEEMPA company, producer of water 808 by AZZARO in Aix-en-Provence. SEEMPA factory will specially reopen its doors next week (from March 24) to bottle this first batch of 100,000 bottles of mineral water.
Weakly mineralized and coming from the deepest artesian source in Europe, "808 mineral water by AZZARO" is exempted from all kind of nitrates and pesticides.
The purpose of this approach is:
Allow patients to benefit from quality water and exceptional purity good for health
Thank healthcare teams in France.
Currently, another action is already being organized in order to be able to deliver all university hospitals in France.
Jérôme DUCROS as President of LORIS AZZARO Institute and Michel SCOTTO, CEO of SEEMPA company are delighted to join their means and motivation for this united action.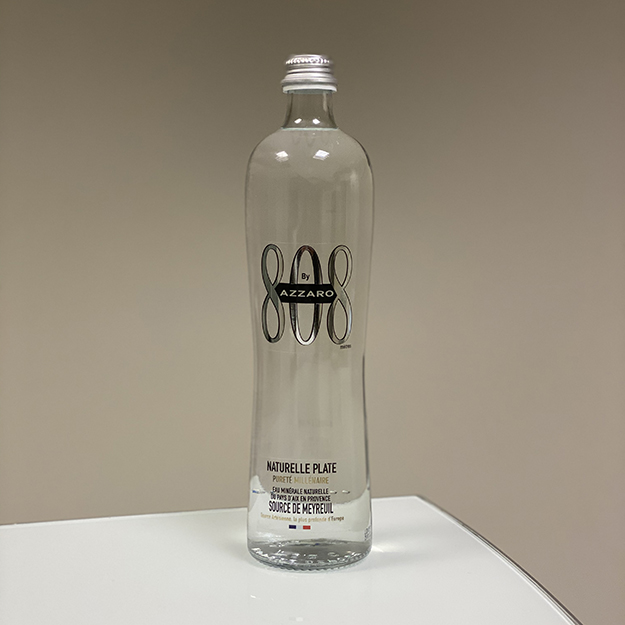 About Loris Azzaro Institute,

Loris Azzaro, atypical creator with globally recognized talent and humanist visionary, has always been concerned with environmental and societal issues. This is why since 2006 Loris Azzaro Institute has continued its actions on its behalf, in favor of development aid, protection of the environment and biodiversity.
The actions of Loris Azzaro Institute hinge on around three main foundations, humanitarian aid, environmental education and eco-construction, putting Nature and Human at the heart of current concerns.
Based in Toulouse, Loris Azzaro Institute has existed since 2006 and presided by Mr. Jérôme DUCROS.
About Seempa and water 808 by AZZARO,
"808 by Azzaro" mineral water owes its name to its geological characteristics as this water is extracted from an artesian source 808 meters underground in Aix-en-Provence. It has been conserving its virtues for 1000 years without being impacted by pollution. This water passes through all the layers of urgonian limestone of the mythical Saint Victoire mountain which renders its minerality unique
It is a rare water, with an exceptional physico-chemical composition, without nitrates, without pesticides, which are the result of the artesian deposit. To preserve its rare qualities of purity and as part of Seempa's commitment to the environment, "808 by Azzaro" natural mineral water is bottled in 99% recyclable glass.
The company and the bottling plant is based in Aix- en-Provence and managed by Mr. Michel SCOTTO.
MORE INFORMATIONS :
Mrs LOZANO stays available if you have any question or if you require any further information.
Assistant : Madame LOZANO Jennifer
jenniferlozano@institut-azzaro.fr